Custom Software Project Development is a way to get superior software best fit to your business goals, individual needs, and challenges.
By deciding to go for custom software project development, you can make sure your exact requirements will be written with a focus on your business processes. It is perfect for those who want to engage their customers with high-end solutions and innovate to stay on top of the market.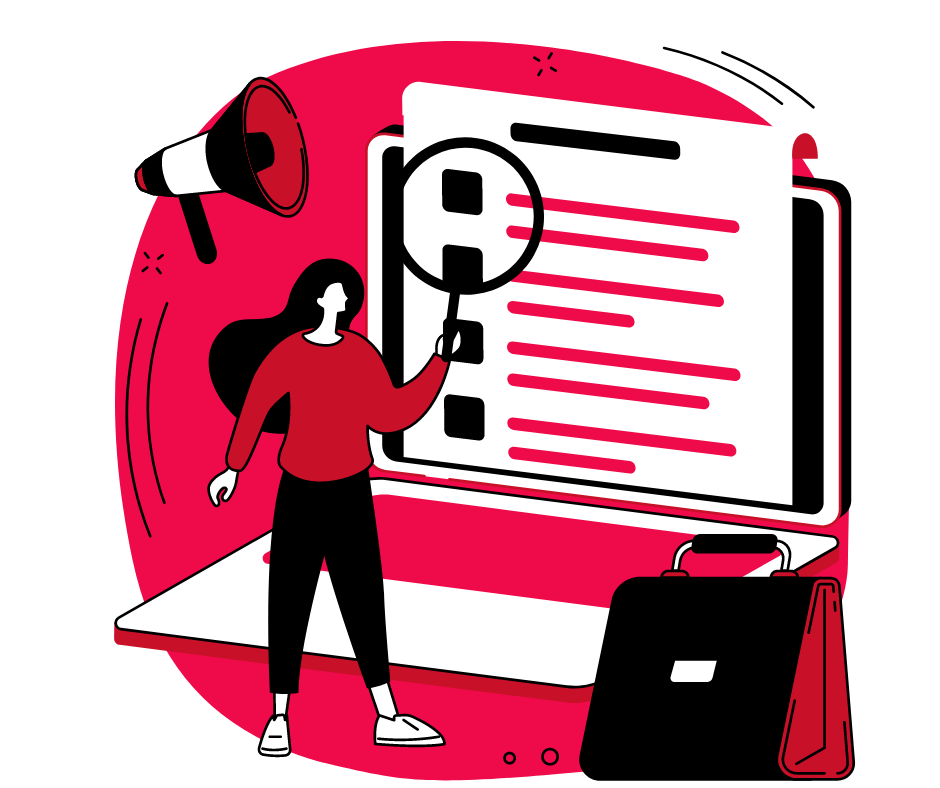 This page is for you if you want to:
looking for software project development expertise
see what you need to start a project,
learn what is the process of designing a digital solution with Yameo,
check if we can be the right partner for you.
To start a custom software project development, all you need is an idea – and we will work with you to figure out the rest:
Validating and verifying your idea,
Understanding your business,
Specifying your requirements, functionalities, and target audience,
Prioritizing requirements following your budget and timelines,
Preparing an action plan.
Working on a project development is always based on meeting these 3 criteria:
Scope
Establishing quality, technology, and size of the project
Time
Establishing milestones and deadlines that must be met
Budget
Establishing if the project is fixed price or time & material
Every project to be considered successful must be delivered on time, within the agreed budget, and deliver the quality you need.
Understandably, you have specific requirements and a budget and want a minimum of risk. At Yameo, we work with our customers to deliver exactly that and have proven time and time again to be a reliable partner for our customers exemplified by our multiple long-term partnerships with household names like DEKRA and smaller scale-ups like COIN22.
But to deliver a software solution that would be the best fit for your needs and business goals, we have to go through a standard process to ensure that you and your customers will be fully satisfied with the end product.

1st step – Ideation & Workshops
We schedule a Discovery Call to find out what is your idea, discuss it, learn about you, your goals, and your customers. From the beginning, you are not talking to a salesperson but to one of our business developers who has both business and strong IT skills, so we can tell what you can, should and shouldn't do. Not to waste your time and to get the expertise from our first meeting. We provide our technological recommendations and budget estimation.
To define the scope of your project, we carry Scoping Sessions and Discovery Workshops. They help us with understanding your business goals and project objectives, defining requirements, and creating a plan for your project. Optionally, we offer Design Sprints which help with visualizing your final project with all the workflows. Such a process helps to visualize all the processes on low-fi mock-ups. In one week, we create prototypes as an example to show you how your solution will look and work. We recommend going for a Design Sprint, especially if your project is very complex, for additional validation and verifying the project with your team and real users, as well as checking if there are some changes to be made from the get-go. This can help you with minimizing the risk of getting something you did not want.
Once we have defined the scope, time, and budget for your project, we can start working on a solution and go on to the next step.
2nd step – Develop and Launch
Since we have already established what are your expectations, we need to decide on the method of working. In software development, there are different ways of managing and working on a project. Most common approaches are:  Classic & Agile. Let us quickly explain the differences between them.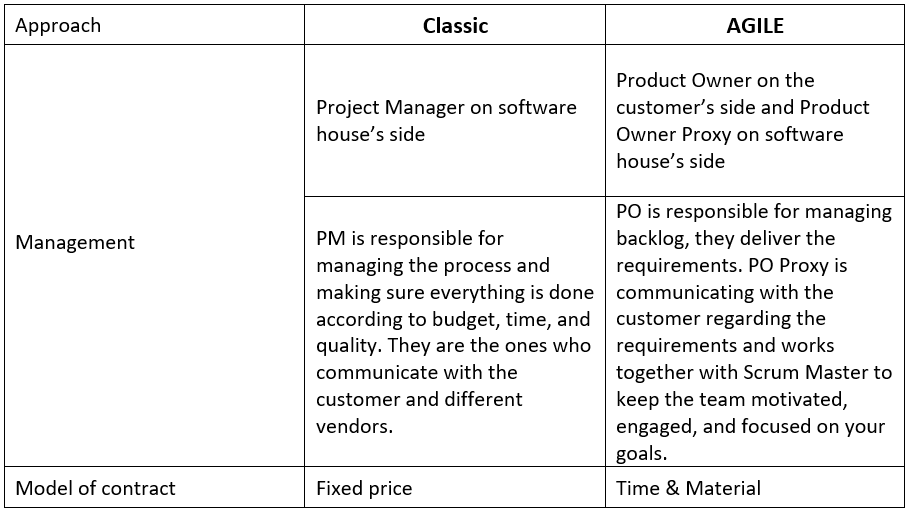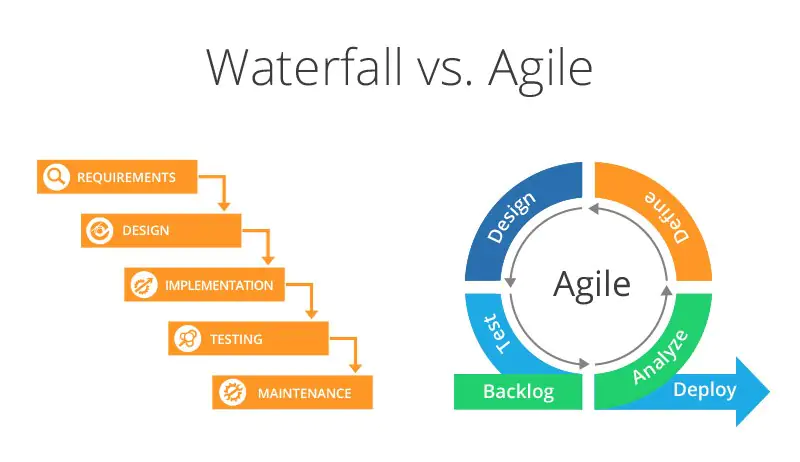 In the Classic approach the Project Manager is responsible for establishing the way of work, milestones and making sure the team works within the agreed scope, budget, and time. In the agile approach the customer's Product Owner is establishing product backlog and Product Owner Proxy with Scrum Master are responsible for managing work.
We can work according to these both approaches; however, 85% of our projects are done in a hybrid way. Our Project Manager establishes requirements with the customer and manages the team that works in scrum framework. All of this with a fixed price settlement, so you can safeguard your budget and minimize your risk by avoiding limitless hours and resource usage. The challenge is on our side to deliver the solution within your budget, time and quality. Such approach enables us to be flexible on your demands and changes in the project that will surely come.
Management
Project Manager
Model of contract
Fixed price
There are different advantages and disadvantages connected to those methodologies and whichever one is the best for you depends on your goals, resources, and needs. We always adapt to the client's needs and help them choose the best method depending on their situation.
Once we agree on the method – it's time to start working according to the plan!
We like to start with visualizing your solution with mockup – without writing code – so that you can see what you will get. We believe it is best to get to this point as soon as possible because you get to see for yourself if that is truly what you wanted. It is also better to provide more insight and add changes at this point during the process because it is easier and quicker to change the design than to rewrite code, so you can get the final solution faster. Such an approach also enables us to cover the gap between yours and ours understanding of the project.
Want to design a solution?
Click here to learn more about visualizing your requirements into a functional digital solution.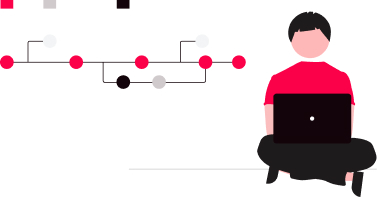 After we establish the design of your solution and all the requirements and changes that must be made, we start coding. That is when we turn your idea into a real working solution. During this step, we develop and test your solution, to deliver exactly what you wanted. We give you a clear overview plan on development, deliverables, and timeline – so you know exactly what to expect. As we have mentioned, we generally work in Agile fashion, meaning you will frequently get opportunities to test what we have developed, offer feedback, and keep full oversight into the progress. When you are fully satisfied with the solution, we launch it, and you get to fully experience and share it with your customers. However, do not worry, we are not leaving you with the solution on your own.
3rd Step – Maintenance and New Ideas
Our maintenance and SLA services are designed to cover your needs from installation to monitoring to updates and repairs when needed. We are aware there is always a need for solution support and changes, so we offer SLAs to our customers – to ensure they have more time to do what matter most: running their business. If you would like to read more about SLAs we offer, visit the page:
SLA
We also believe that there is always some room for improvement, so we often hold Consultations for our customers – to hear their challenges and problems and provide new ideas on enhancing and further improving the solution they already have. We know that to stay on top of the market and be the top leader you must constantly innovate. That is why we are always open to start new projects and help your business grow even more!
Why Yameo?
We are not afraid to commit to deliver your solution within your budget. You can safeguard your budget and minimize your risk by avoiding limitless hours and resource usage.
You can move faster and more efficiently in your development projects because you don't need to explain specific areas connected to your industry to us. We have over 16 years experience of working with Insurance, Finance, Banking and Healthcare industries, so we understand their challenges and know how to approach them.
You can trust us with the highest standard of service as we are ISO 27001 certified, meaning that we have met the standards of data security, data management, software development and best practices for security for software houses – your solution will be standards-compliant, and your data will be safe.
You don't have to stress over looking for different companies to support your Product Life Cycle – we take care of all the steps ourselves, from ideation to maintenance and SLA.
We respect your time, that's why during our first meeting you will be talking to one of our business developers who has both business and strong IT skills, so that you receive IT and business insights right from the start.
Our approach is flexible and transparent to allow our customers to be a part of the project development phase. Values like trust, control, and satisfaction aren't before and after thoughts but are our focus during development so that you do not get an unexpected outcome when we deliver a project.
We always focus on your business goals so that you receive your exact requirements in a form of a digital solution. After all, we succeed only if you succeed.
What are some examples of the projects we have done? Check Below:
Want to

start a software project?

Leave your contact information and we will schedule a short call to discuss your idea and check how we can help you

Click here to leave your info
Refer a friend, get rewarded
We welcome your recommendations. As a thank you, for every successful referral, we'll award you based on your friend level of expertise.
Apply, join us
Want to embark on an adventure with Yameo? Whether you're an experienced developer or you're just taking your first steps in programming, we'll be happy to help you grow and learn in our company.