Yameo and claimsforce Partner to Transform Video-Enabled Claims Management in the German Insurance Market
In a move set to transform the customer service technology of the insurance industry, Yameo and claimsforce cooperated to offer video-enabled claims management services. This partnership aims to streamline and enhance the claims handling process and adjusting services providing an innovative and convenient experience for policyholders. By combining the expertise of Yameo with the cutting-edge claims management platform of claimsforce, the collaboration promises to deliver an unprecedented level of usability, efficiency, and customer satisfaction by bridging the gap between online convenience and interpersonal connections.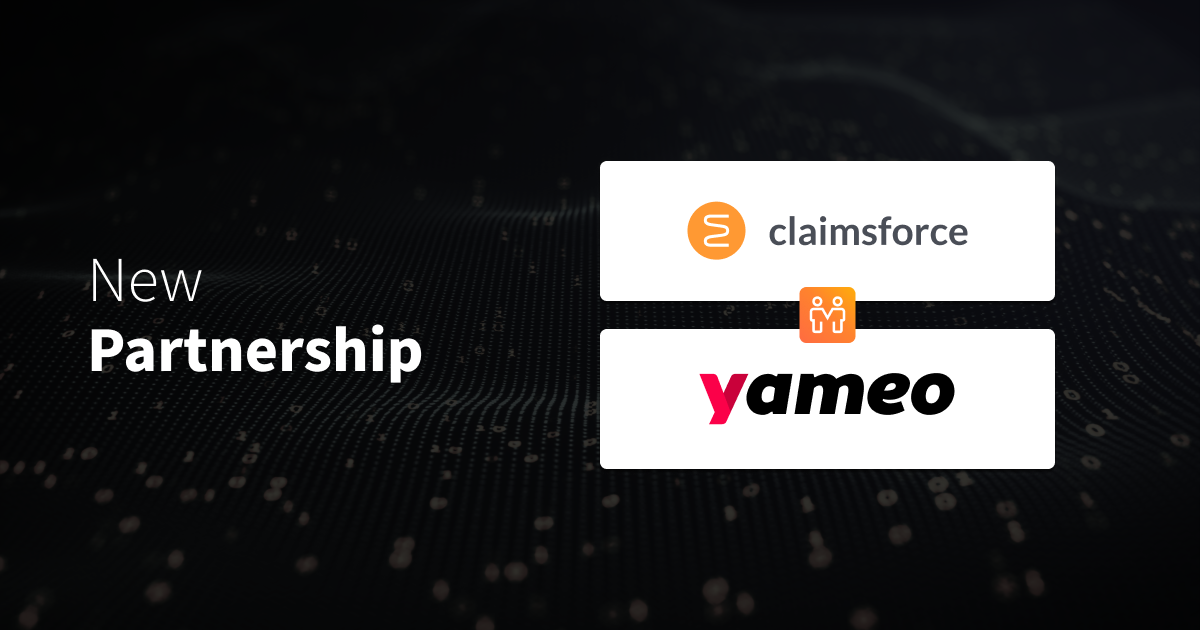 About claimsforce – AI-empowered Claims Management Software
Claimsforce is a B2B Software Company offering data-driven and AI-empowered claims management software. They digitize core claims management processes and help insurers, TPA organizations as well as individual adjusters achieve their digital transformation goals. Their innovative software solutions increase the efficiency of claims management, whilst improving customer satisfaction and reducing costs. The company, with its headquarters situated in Hamburg, Germany, is a key player in the German insurance market and is currently expanding to other EU countries, as well as the US market.
Enhancing Claims Management with Video-enabled Investigations
Traditional methods of handling insurance claims often involve lengthy paperwork, tedious appointment arrangements and long car drives for on-site claims investigations. However, with the integration of video-enabled loss assessment, claimsforce now offers insurance providers, claims adjusters, and other  organisations an efficient and streamlined claims management platform. Leveraging modern video technology enables claims adjusters and experts to initiate and resolve insurance claims through high-quality and interactive video calls, providing a fast, reliable, and flexible claims settlement experience.
Seamless Integration and User-friendly Interface
Yameo, known for its expertise in developing state-of-the-art video communication solutions, integrates   its robust video-enabled platform seamlessly into claimsforce's existing claims management system. This integration ensures that claims adjusters can easily connect with policyholders through a video-supported interface within the claimsforce solution, eliminating the need for multiple platforms or complicated processes. With just a few clicks, claims adjusters can initiate a video call and have face-to-face interactions with policyholders, enhancing trust and improving the overall customer experience within the claims settlement process.
Real-time Assistance and Improved Efficiency
The use of video-enabled customer service requests empowers insurers to provide real-time assistance to policyholders. By virtually assessing the damages, lengthy car drives to claims locations become unnecessary which enables claims adjusters to handle a greater number of claims and settle claims much faster – while reducing environmental impact at the same time. This streamlined process accelerates claims handling, significantly reducing the time of the whole claims turnaround time. As a result, customers receive faster resolutions, increasing convenience  and improving overall customer satisfaction.
Advancing the German Insurance Market
The partnership between Yameo and claimsforce is another step forward for the digital transformation of the insurance industry. By embracing innovative technology and prioritizing customer-centric solutions, insurers and claims adjusters can differentiate themselves in a competitive market. The integration of video-enabled customer service requests enhances operational efficiency, increases productivity, reduces costs, and improves customer satisfaction, thereby setting a new standard for claims handling in the industry.
Want to see for yourself?
If you wish to see the claimsforce claims management system you can contact claimsforce using the following link
Request a demo
Do you want to see the remote claims handling solution by Yameo?
Contact Nick van Xanten using the button below to learn more about the solution and video-communications in general.
Schedule a call