End2End Process: This is what differentiates Yameo
Software development can be as easy as you like – it all depends on who you ask for help.
Yameo has been active since 2005 and we have helped 45 organisations build over 100 solid software solutions. You will note that we have over 100 projects, yet 45 customers. This is intentional, because what we do is build solid software for top leaders – end2end software development. People understand value and what we deliver is value. Reflected in the fact that on average we are building 2 to 3 solid solutions for a customer. Of course our relationships with customers starts with 1 project, but as is often the case this becomes a second and third project.
We like seeing our customer's succeed, because in the end it means we succeed.
End2end Software Development – explain it to me
Throughout our history and what you can read in our Use Cases is that we have always been of value in supporting a customer from beginning of a project with things like ideation, critically analysing their idea, infrastructure planning etc – all the way through development and deployment & launch. This is only half of the value we offer, and where other software houses often end their relationship with a customer. Where we go further is not just in SLA's, maintenance and hosting of solutions – but in being a partner who understands your industry and the trends that are important to you and offer up-front recommendations, feedback and ideas on how you can continue to grow.
Inital Insignt
Ideation
Define the challenge
Workshops
Produce
solutions
Defined Problem
Refined Solution
Launch
Launch and test
release
Ready for new
ideation
Maintenance
Hosting and SLA
Ideation
Share your ideas, challenges, problems and vision in a first ideation meeting. Building trust and knowing your business and practices is especially important to us.
Workshops
We're an organisation of creative people with a passion for sustainable development. We love to create a vision and work together through workshops to evaluate, refine, and build your ideas. We help organisations realise their projects by connecting them with the right people and resources and build a concise project plan.
Develop
We start by giving you a clear overview plan on development, deliverables and timeline – this way you know exactly what to expect. We generally work in an Agile fashion meaning you will have frequent moments to test what we have developed, offer feedback and keep full oversight into the progress.
Launch
Your new solution deserves an immaculate launch. We offer a complete range of services, from deployment to handovers and training, everything can be tailored for your business needs.
Maintenance
Our maintenance and SLA services are designed to cover your needs from installation to updates, from monitoring to digital repairs when needed! Our clients often have SLA's to ensure they have more time to do what matters most: running their business.
Ideation 2.0
Often is the case that we are a digitalisation consultant & partner for our customers – providing new ideas and hearing what are other challenges & problems they face and where software can offer a solution. This also applies for developed solutions we have built for them as we provide data and information and share ideas on enhancing or further improving on what they already have.
Hardware
Although not our speciality we work with partners who can help with hardware – such as our Tellma use case where together with Tellma GmbH we provide a full software and hardware video banking kiosk terminal solutions to banks in Europe.
Don't just believe our word, believe our customers!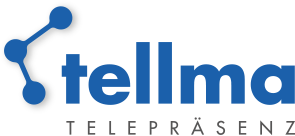 Thanks to the video kiosk software from Yameo we are winning more and more new customers.
"Customer success is our success"
This can be such a cliche saying to use – however in our case this is reality. Like I said we only have 45 customers yet we have done over 100 projects. Time and time again customers return to us to develop new solutions after they were satisfied with our previous work and the results they achieved.
We therefore focus on building solid software for top leaders.
"At Yameo we focus on delivering exceptional work not just because we know a customer expects it, but because we know there is always more to develop. And if a customer remembers you and sees you as a valuable and trustworthy partner – they will return to you when they have new ideas. This is our focus at Yameo and this is how we have built long-term partnerships with some of the biggest organisations in the world like DEKRA, WorldVision International and AON. And above all we pride ourselves on being expertise in healthcare, finance and insurance solutions where we have a lot of domain expertise and experienced development teams." – Maciej Krajewski, CEO Yameo
We focus on the whole customer journey
We understand that end2end software development has to make sense for both customer and end-user. We therefore try to understand the full customer journey, all processes involved and all use cases that are possible. Only then can you truly be a valuable partner for your customer. If you adopt the customer journey and all its processes and keep this in mind while being an ideation partner, developing or even launching and maintaining a solution you will know what is relevant and effective for a customer and what is not. With this mentality we have approached our customers for 17 years and why we have 45 customers but 100+ successful projects.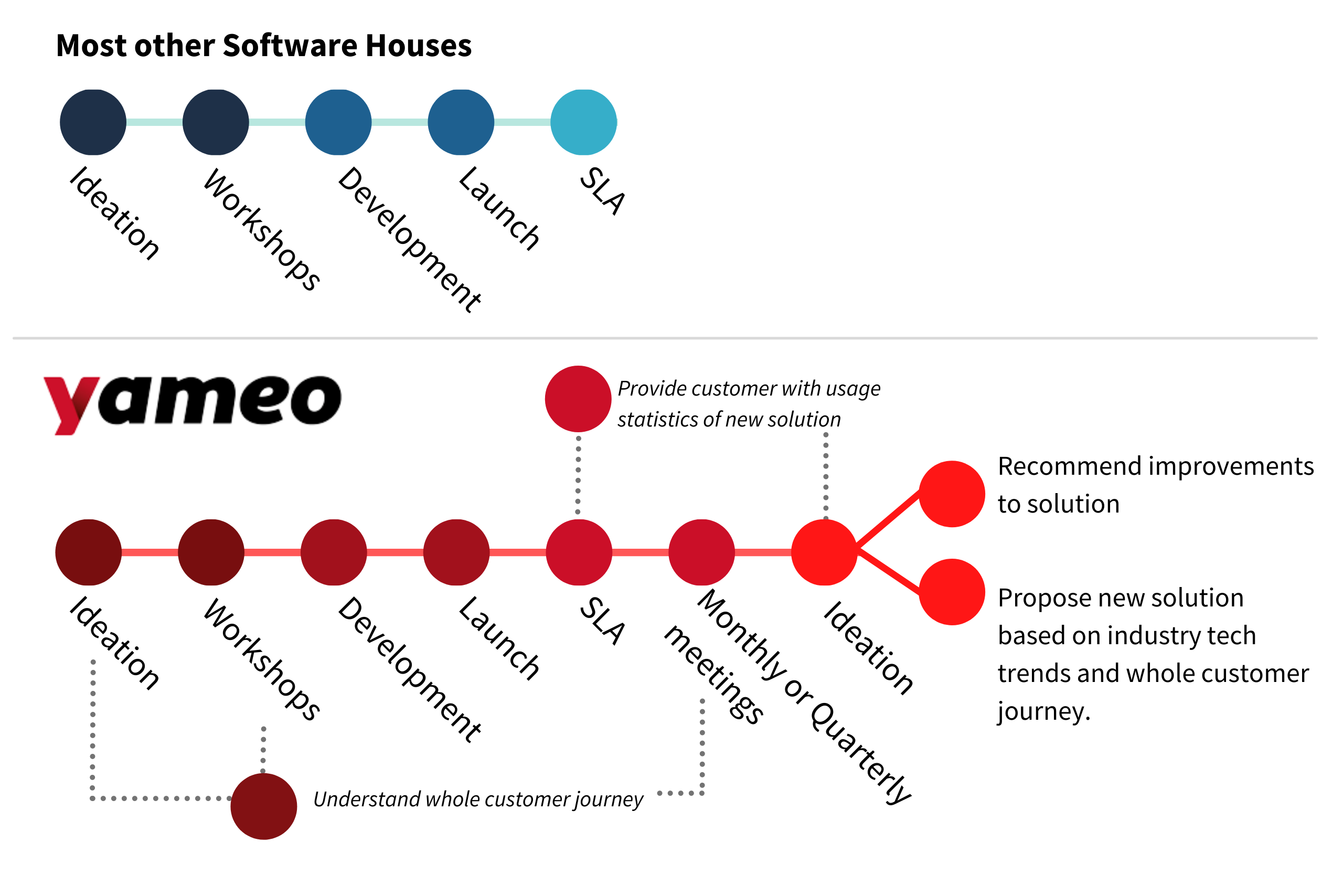 Software development can be as easy as you like – it all depends on who you ask for help.
Who will you ask for your next software project?