Video Kiosk Terminal Services
Fintech
When we held our first meeting with Tellma in 2018 we understood they needed a software partner who could provide robust and flexible video software which could be rapidly deployed in various IT environments across borders.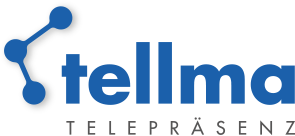 Since 2018 Yameo is a digitalisation partner
Advanced video software for kiosk banking
Tellma GmbH is an innovative telepresence solutions provider for the financial services, banking, insurance and other service providers. The company aims to help organisations position themselves as the platform operator, helping to achieve the strategic goals surrounding digitalisation and customer experience.
You need to innovate to survive
This is very much the case in Germany where we know that 25,000 bank branches are making a loss and need to close. The hard part is deciding how to continue servicing your customers when your bank office is closed (or downscaled)? This is where you need to be innovative – and this is where Tellma GmbH is innovative. They saw the gap and wanted to provide a full software & hardware Video Kiosk Terminal Solution to banks that need to innovate to survive.
Their customers – financial service providers – have a need to perform all banking use cases via a Video Kiosk Terminal Solution.
So where did we start?
Well to begin we sat down with Tellma and discussed their idea. We identified that they need not just a development agency but a partner who is invested in the software also delivering, because if it delivers Tellma wins more deals and we can grow our software presence. With this in mind we started on developing a basic or 'MVP' (Minimal viable product) version of the solution.
Time to innovate
Having worked in the financial service industry before with banks like Raiffeisen we understood that when innovating there always is a bottom-line. And the bottom-line always is what are my financial gains? This formed the starting block of the solution we would build together with Tellma. The end-customer being financial service providers – need to know what is their financial gain from a Video Kiosk Terminal Solution? To that end we started identifying the highest gain use cases which could benefit from video kiosk banking. These included:
Account Management

Mortgage & Loans

Activating new cards

Depositing

Investment Advice

Wealth management
Matching feature with use case
To best service these high-gain use cases we started identifying which features allow end-users to carry out their banking business via a kiosk solution. To that end we identified the following features:
Document scanner & printer

Co-browsing

NFC Card reader

Digital signage pad

High quality camera for video sessions
Video Identification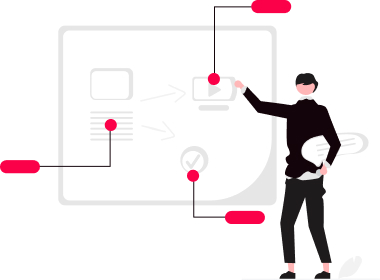 This also meant we identified our first challenges of the project..
When identifying that we needed components like a identification we started seeing that the solution would comprise of different third-party solutions like VideoID. It meant our first challenge was to design an infrastructure that was both quickly deployable to different environments whilst being able to integrate via API with multiple third-party solutions. Our awesome video development team huddled together and thought it through, with success!
The eventual solution allows for rapid deployment of the Video Kiosk Terminal Solution to multiple environments using Docker technology.
Challenges lead to new Features
After the Video Kiosk Terminal Solution was defined, we continued on and identified that bank agents should be able to monitor and control the physical environment the kiosk is located in. A clear example was when discussing your bank business using a kiosk you would like to have the location close the door so others cannot hear what you are discussing. As in many industries, but most prevalent in the financial services industry – if the solution is not customer friendly, users won't want to use it. With this in mind we therefore developed an agent workstation so that bank employees could control everything from air-conditioning or heating to opening or closing the kiosk door. It made for a much more pleasant customer experience which was reflected in the results (see below).
Designing an Agent Workstation
The agent plays a huge role in managing the expectation of a kiosk bank user – including managing the features of the kiosk and environment by which the bank customer interacts with them. We therefore designed a workstation enabling:
Managing heating and cooling milieu
Lighting and shading options
Opening or closing the door to kiosk room
Enabling video identification processes
Scanning identification documentation
Printing files and documents
Reading the NFC Card Reader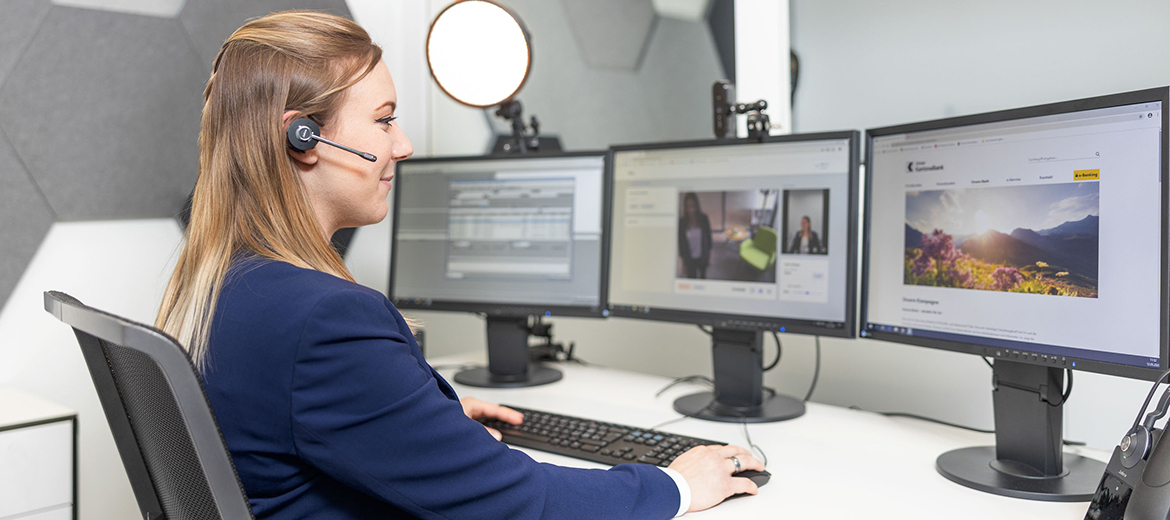 Know Your Customer
For unique features like video identification we needed to integrate the solution via REST API with third-party solutions. Features like these are crucial in the Know Your Customer (KYC) practices every financial service provider goes through. We therefore scanned the market for effective solutions which had a strong API available and tested them extensively. We eventually came to a provider whom we use today and is used by various German and Swiss banks to identify and validate their customer is who they say they are.
So what are my financial gains?
We kept coming back to this question throughout development of the software solution. We know we had the use cases hammered down, the KYC aspect covered but we also know that in the financial service provider sector there is always that question: what are my financial gains? With our state-of-the-art agent workstation centralising bank employee resources, banks could drive down costs in low-turnover bank offices. Reducing their physical space meant reducing costs, whilst maximising their human resources.
But we are still not done..
Software solutions in the financial services sector are prone to extreme scrutiny when it comes to data management, security and compliancy. Using our great in-house testers, as well as an external company tested our solutions with results in-line with ISO27001 standards. We took it a step further and passed for the ISAE3402 penetration testing, often required by banking organisations. Steps like these we had seen were necessary for clients like Raiffeisen and so we were well prepared to do it again for German and Swiss banks.
Final touches make the difference!
The kiosk solution has been running since 2017 and we have made major upgrades with new features and functionalities since then. We work closely with Tellma in deciding which components to add and to upgrade. Features like custom advertisement on kiosk screens when not in use, or full branding of both hardware and software. We keep making improvements to the solution with the original goal in mind: if it delivers Tellma wins more deals and we can grow our software presence.
Thanks to the video kiosk software from Yameo we are winning more and more new customers.
Solid solutions deserve solid support
As a partner to Tellma it is understandable that the video kiosk software requires custom and unique support. Our custom SLA for Tellma has been in place for years and we are glad we can help them with a solid software solution for the truly top leader they have become in their market.
The Solution: Video Kiosk Terminals
Video kiosk software able to be deployed with various video engines and work with multiple hardware to offer customers a video banking experience via kiosk terminals. Developed using REST API's as to integrate with third-party solutions such as digital signage and video-identification. The software includes integrations to enable Agents to manage the environment of the kiosk terminal such as shutting the door, manage heating, closing window shades etc. All necessary features are in place to ensure customers can handle all use cases they would otherwise handle at a banking counter with actual employees facing them.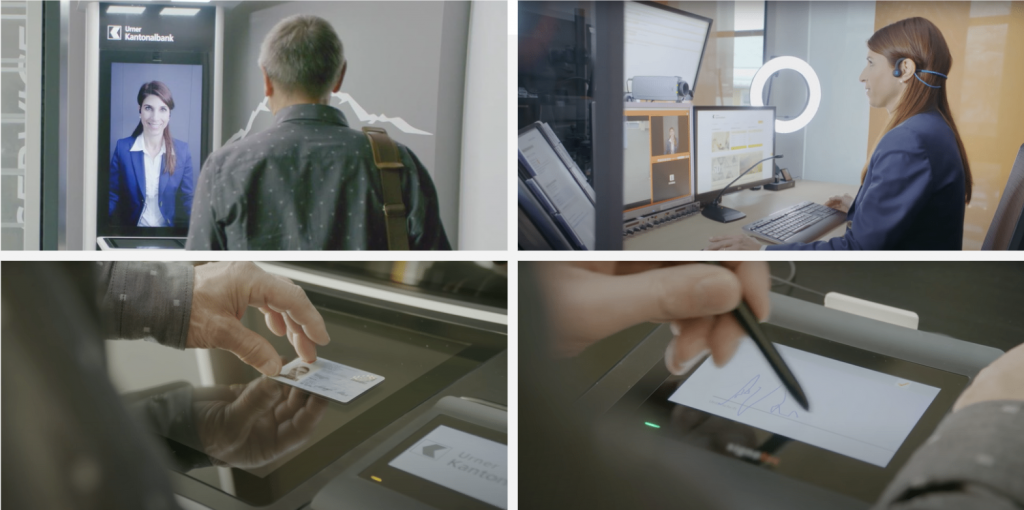 The Results
7 banks across Germany & Switzerland are customer
|
25,000 end-users per month
|
60% use the service for finding information
|
35% use the service to process account and card requests
|
5% use the service to open accounts
90%
of users rate service as easy-to-use
90%
customer requests handled via kiosk
80%
would recommend friends & family to use the service
We want to work with you!
Let us prove that we are the best choice you can have. Just one call with us might solve many of your IT problems and you will gain a Trusted Tech Partner for years, not months.
Get in touch