Solution design is the process of visualizing your requirements into a functional digital solution.
This page is for you if you want to:
design a digital solution,
see what the benefits of designing a solution are,
learn what is the process of designing a digital solution with Yameo,
check if we can be the right partner for you.
Create amazing and engaging digital solutions that will impress your customers
Let us take a deep-dive look into your short- & long-term goals and match the right technologies, software and infrastructure to meet them.
Where Yameo can help you:
Validating and verifying your idea based on our experience and market knowledge
Specifying your requirements, functionalities, and target audience
Prioritizing requirements following your budget and timelines
Designing your solution – UX & UI
Developing the solution
Testing the solution
SLAs and maintenance
Provide new ideas on enhancing or further improving your digital solution
To design a solution that would be the best fit for your needs and business goals, we have to go through a standard process to ensure that you and your customers will be satisfied with the end product.
1st step – Discover & Define
To start, we learn about you, your idea, and your customers. We schedule a meeting during which we discuss your vision for the project and define the target audience and functionalities you need. We analyze and verify your idea, validate it, and specify the details. From the very beginning, we take your end-users into consideration to create the best solution to help your business grow. We provide our technological recommendations and budget estimation, as well as help with prioritizing your requirements following your budget. We also establish if we are the ones who will be developing the solution so that you get everything in one place, or if you only need the design.
To define the scope of your project, we carry Scoping Sessions and Discovery Workshops. They help us with understanding your business goals and project objectives, defining requirements, and creating roadmaps for your project. Once we know what your expectations are, we can start working on a solution with our team of experienced UX/UI designers and developers.
Optionally, we offer Design Sprints which help with visualizing your final project with all the workflows. Such process helps to visualize all the processes on low-fi mockups. In one week, we create prototypes as an example to show you how your solution will look and work. We recommend going for a Design Sprint, especially if your project is very complex, for additional validation and verifying the project with your team and real users, as well as checking if there are some changes to be made from the get-go. This can help you with minimizing the risk of getting something you did not want.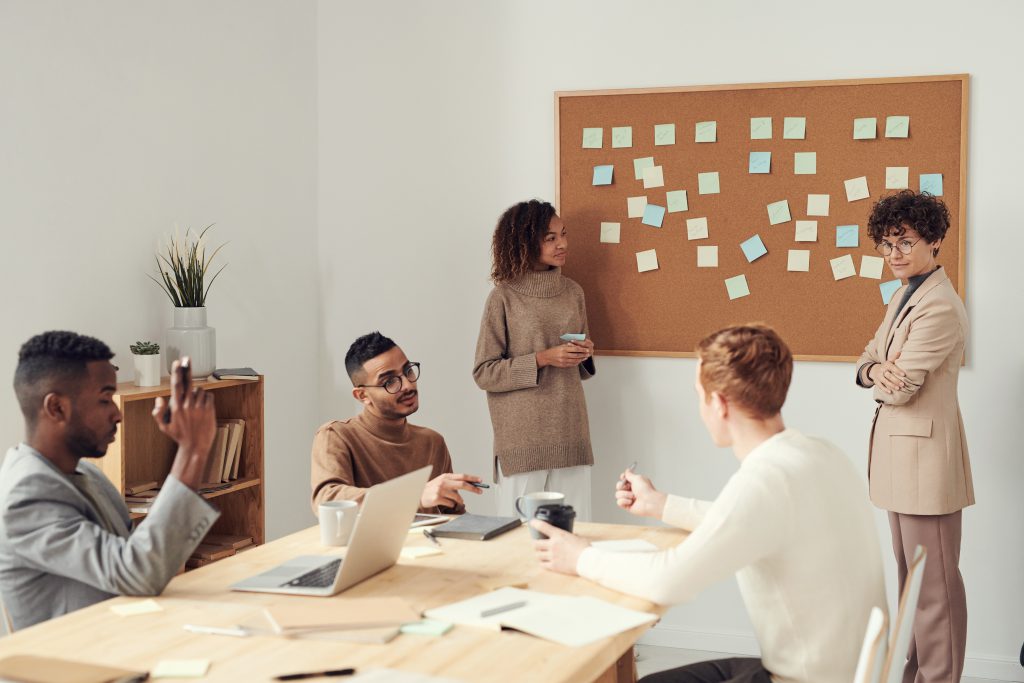 2nd step – Design
During this step of the process, our team of UX and UI designers works on the visual aspect of your digital solution. We know your requirements, your vision, and goals, so we go into creating mockups of your solution. At this point, we do not write code. We take User Experience, User Interface, and Branding into consideration, so that your solution is easy-to-use, engaging, and shows your brand. This is where you will be able to see how your solution will look and work. We believe it is best to get to this point as soon as possible. The visualization of your project helps you with a better understanding of if that is truly what you need, are there are any additional requirements, and is there something that needs to be completely redone. After we create mockups of your solution, which are clickable or non-clickable, you get to test it with your team, verify and specify further requirements.
Trust us, there are ALWAYS changes to be made,
so you do not have to worry about it. It is a normal part of the process, as you get to finally see the solution and the visualization helps with fully understanding what is important, what is missing, and what should be changed. That is why we like to get to this point quickly – because you get to see for yourself if that is truly what you wanted. It is also better to provide more insight and add changes at this point during the process because it is easier and quicker to change the design than to rewrite code, so you can get the final solution faster.
3rd step – Finished Design
At this point, you can either take our design and develop it yourself or with a different software house or continue to work with us on production and launch. After we establish the design of your solution and all the requirements and changes that must be made, we start coding. That is when we turn your idea into a real working solution.
To better understand our process of developing different software solutions and what are the next steps, visit the page:
Project Development
Why Yameo?
We are a software house, not a creative agency – that is why, while designing your solution, we are aware of what can and cannot be done in the development process. You can be sure that what you see is what you get.
We can realistically outline what you can get within your budget, as we are experienced in working within the fixed price – over 85% of our projects are fixed price.
You do not have to stress over looking for different companies to support your product life cycle – we take care of all the steps ourselves, from ideation and design to development and maintenance.
It does not matter whether you have all the requirements prepared beforehand and want to design your solution or you are coming to us with just a broad idea that needs validating – we adjust the process to accommodate the customer and to create solutions they are satisfied with.
We have over 16 years of experience, so we are aware what are the available ready-to-use solutions on the market and can recommend you use them as part of your project – so that you can go to market quicker and cheaper.
We can jump in on every step in the process of your solution design – start with validating your idea or just designing your solution or developing your solution based on a design you have.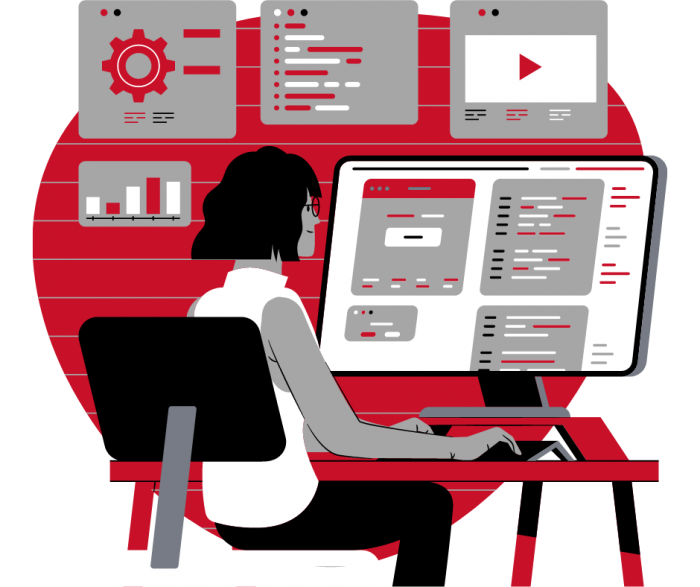 Frequently Asked Questions
How does the process look?
Depends on what step in your project you are at. We can start with ideation and go through all the steps mentioned above or we can jump in the middle. In general, we work according to the process pictured below. We can start working with you on every step in this process, it all depends on your needs and requirements.
What do I need to prepare to start a project with you?
In general, all we need is an idea and we can start working together from there. We start with a Scoping Session and Discovery Workshop, which help us gather all the needed information to best define the scope of your project, your goals, and your target audience, and ensure you get exactly what you need.
How much does it cost?
To put it briefly – it depends. There are a lot of aspects that come into play when estimating the cost of a project – how complex it is, how big it is, are we just designing the solution or we are also developing it, can we use ready-to-use APIs or does everything need to be written from scratch? However, you can be sure that once we commit to a fixed price – we stick to it.
Do you have a question for us?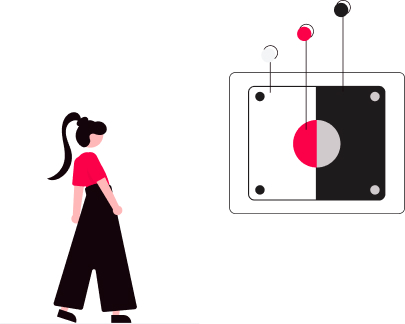 What are some examples of our solution designs? Check these projects below:
Want to

design a solution?

Leave your contact information and we will schedule a short call to discuss your product's vision and check how we can help you

Click here to leave your info
Refer a friend, get rewarded
We welcome your recommendations. As a thank you, for every successful referral, we'll award you based on your friend level of expertise.
Apply, join us
Want to embark on an adventure with Yameo? Whether you're an experienced developer or you're just taking your first steps in programming, we'll be happy to help you grow and learn in our company.