Software Consulting: Why, How, When? 
Having access to an expert who can give advice, share recommendations, and guide you when you're not sure what to do – is an amazing thing. Nowadays, many specialists and consultants can advise you in literally any existing niche. As you can imagine – software consulting is one of them. Software consulting is a specialized service that helps businesses to develop, maintain, and optimize their software applications. In today's competitive business world, having access to the right software solutions can make all the difference. However, having access to an expert who can suggest improvements and navigate your project, may be even more important.  
Let's dive into the why, how, and when of software consulting.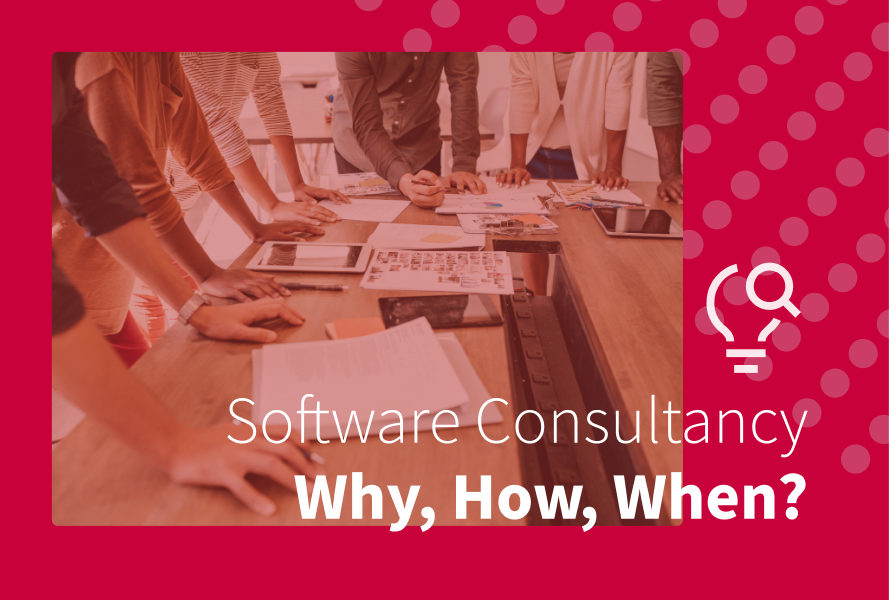 What is Software Consulting?
Let's start with something very simple, that is the definition of consulting itself. According to Deloitte:
"Consulting is the process of helping clients solve their most pressing business problems or issues."
In the case of software consulting, this process is simply narrowed to the topic of software and its maintenance. Here, the role of a software consultant is to provide expert advice, guidance, and support to businesses on their software-related projects. The consultant works with the client to understand their specific needs, goals, and requirements and then provides recommendations and solutions to help them achieve their objectives. 
Why and

When

?
There are several reasons why you might consider trying software consulting services. Maybe you feel like something is blocking you in the development phase of your software project. Or you have limited resources? Or do you simply need some recommendations and suggestions? Most often, consultants or consulting agencies are sought for the following reasons: 
Starting a new software development project: If a business is starting a new software development project, they may need guidance on how to structure the project, choose the right technologies, and manage the development process. 
Struggling with a current software development project: If a business is having difficulty completing a current software development project on time or within budget, they may need help identifying the root cause of the problems and implementing solutions to get the project back on track. 
Needing to modernize legacy systems: If a business is using outdated software systems that are no longer meeting their needs, they may need help identifying modernization opportunities and implementing a plan to update their technology stack. 
Addressing security concerns: If a business is concerned about the security of their software systems, they may need a security assessment to identify vulnerabilities and a plan to address them. 
Scaling up software development: If a business is growing rapidly and needs to scale up their software development capabilities, they may need help identifying the right tools and processes to support their growth. 
Implementing new software tools: If a business needs to implement new software tools or systems, they may need help selecting the right tools, configuring them, and training their staff on how to use them. 
Optimizing software development processes: If a business wants to optimize their software development processes to increase efficiency and reduce costs, they may need help identifying bottlenecks and implementing best practices. 
Benefits of Using Software Consulting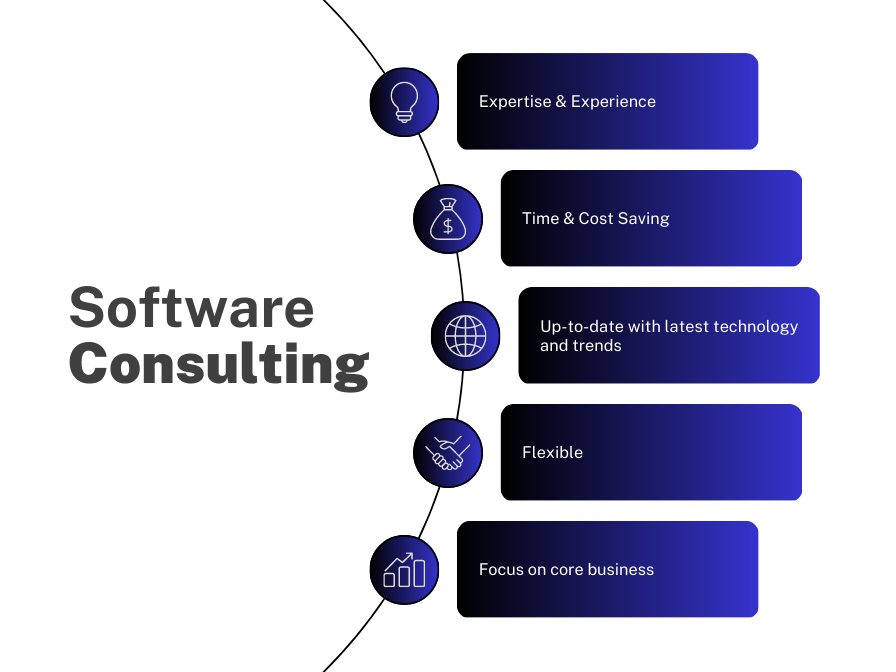 First, the cost and time savings. By hiring an outside software consulting agency or consultant, you don't have to commit to a full-time employee or a team. After all, hiring an in-house team of software developers can be expensive. Instead, only pay for the services you need, and you don't have to worry about the overhead costs associated with hiring and managing an in-house team.  
What is more, partnering with a software consulting agency provides access to a team of engineers with diverse backgrounds. This way, you get experts who solved problems similar to yours hundreds of times before. They can offer fresh insights and recommendations that could improve your IT and business processes. By leveraging their experience working across different industries, those agencies or consultants can suggest new solutions that you may have never considered before.  
Additionally, software consulting agencies stay up-to-date with the latest technology trends and advancements. This means you can benefit from their expertise and implement the latest tools and technologies in your project. On top of that, software consulting agencies provide flexibility in the approach to software development, with the ability to scale up or down as needed, adjusting resources based on the needs of the project. 
Finally, your whole focus is on the business. When you work with a software consulting agency, you can focus on your core business while leaving the software development to the experts. This can free up your time and resources to focus on other important areas of your business. 
How to Get Started?
If you're considering working with a software consulting agency or a consultant, there are a few things to consider. First, define your goals and objectives for the project. What do you hope to achieve? What are your priorities? This will help you communicate your needs to the consulting agency and ensure that you're on the same page. Next, assess your budget and timeline. What is your budget for the project, and what is your timeline for completion? This will help you determine which software consulting agency is the best fit for your needs. It is also good to look for someone who specializes in the service that you need. Once you've found a consultant or a software consulting agency that you'd like to work with, the process usually involves an initial consultation to discuss your project goals and requirements, usually called the "discovery phase". From there, they will develop a proposal outlining the scope of work, timeline, and cost. If you agree to move forward, you will begin the project, typically with regular check-ins to ensure that the project is on track and meeting your needs. 
If you would like to read more about effectively tracking software projects, we have written a guide that you can download here: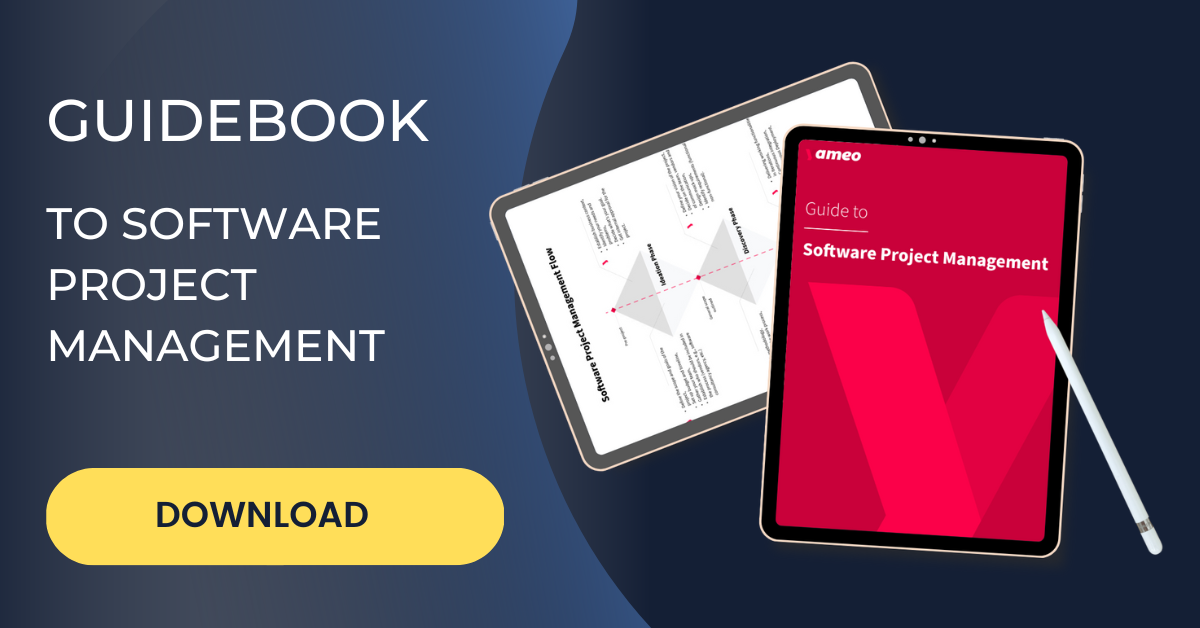 Common Challenges & Pitfalls When Working With Software Consultants 
While there are many benefits to working with a consultant or a software consulting agency, there are also common challenges and pitfalls that can arise. One of the biggest challenges is communication. In the long run, misunderstandings or miscommunications can lead to delays or mistakes. To avoid this, it's important to establish clear lines of communication and set expectations early on in the project. Another challenge is scope creep, where the project expands beyond its original scope, leading to budget and timeline overruns. To avoid this, it's important to define the scope of work upfront. Additionally, be clear about any changes to the scope as they arise. Finally, it's important to maintain a collaborative and transparent relationship with the consultant or the agency, keeping them informed of any changes or issues that arise during the project. By being aware of common challenges and pitfalls in software projects, and taking steps to avoid them, you can ensure a successful and productive partnership with your consultants.  
Software Consulting – is it for you? 
In conclusion, working with a software consulting agency or a consultant can provide numerous benefits. Those benefits are mainly technical expertise, cost savings, and flexibility. In many ways, consulting is a "win-win" scenario for both the client and the consultant. Of course, there is always an inherent risk in working with any professional. Sometimes, your project may not be handled as you had expected or hoped. However, this risk can be mitigated if you do adequate research and know what to expect when working with a particular consultant or development company. 
Overall, software consulting is a valuable service that can help businesses of all sizes make informed decisions about software solutions. Whether you're looking for custom software development or off-the-shelf solutions, a consultant can help you identify the right tools and strategies to meet your specific needs. 
If you're looking for software consulting services, our team of experts is here to help
Schedule a short consultation to discuss your situation and see if we can be of help 
Get in touch